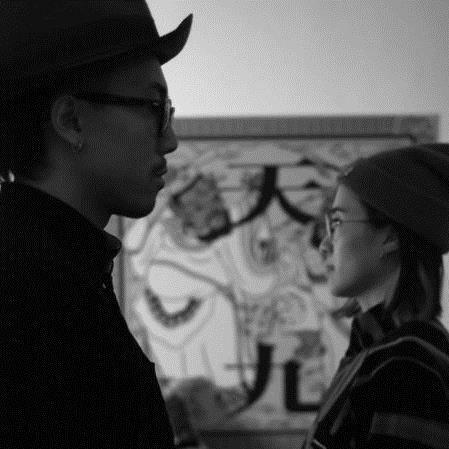 Talking about Tin Kau, most people may immediately think of gambling. In fact, Tin Kau is the same as mahjong which is a game striving for strategy, memory and luck. However, the popularity of Tin Kau is decreasing which is almost lost in transmission in Hong Kong. Observing the situation of Tin Kau, a group of young people who are attracted by Tin Kau has established The Tin Kau Club. They claimed themselves as "patient" to introduce Tin Kau to younger generation by launching their designer products and holding exhibitions as they have the same belief of re-developing and promoting the culture of Tin Kau. Occasionally, #HAPi is honoured to invite the founder of The Tin Kau Club, Wallace and Yanky, to share their story about Tin Kau and patients, their story of making dreams become reality. It's never too insane to chase your dream.
Doing Bullshit Jobs Seriously
Recalling the motivation of establishing The Tin Kau Club, it's totally because of fun. They found that there were lots of obstacles to gathering due to lockdown, therefore, looking for fun at home was the best way to consume quality time with friends. And this was how they learned Tin Kau and how The Tin Kau Club was born. Being "Patients" of the The Tin Kau Club, they have contributed to the brand by performing their strengths like Yanky responded to graphic design while others are in charge of composing music or copywriting. "It's difficult to find participants to play Tin Kau as it is not common in our age. So we will try to promote Tin Kau in a more innovative way in order to boost people's interest in this game with our products." Wallace said. They thought Tin Kau was far more than a game, it was a culture that was being ignored from time to time. Talking about culture, Yanky has expressed her anger with the way the government conducted culture preservation which they put more concern on benefit instead of the core value, transmitting the culture to the future generation.
Tin Kau Is Not Gambling
The reason why Tin Kau is always being categorized as gambling is because of the stereotype from some movies scenes in the past. "We've got no control on how people interpret the game, but we hope they can try to see Tin Kau in a new perspective which is totally unrelated to money." The wisdom behind Tin Kau is about Cathay culture, the knowledge of the harmony of people and earth and the 24 solar terms which is extremely more complicated than expected. Yanky said they would like to think out of the box and try something new to promote the tradition boldly. "If you think I'm insane, then I'll be the silliest person in the world trying new things that are not existing in the world. What if you are as insane as me, then we can be friends."
Ice Breaking of Two Generation
Looking back to the most memorable thing of establishing The Tin Kau Club, they mentioned the unexpected impact on people's connection. "I've got a friend who's father loved playing Tin Kau very much but refused to share it to his daughter due to the social stereotypes. One day, I taught my friend to play Tin Kau and gave our designed Tin Kau Tee to her father. It has unexpectedly become the source of ice breaking of their father-daughter relationship." Wallace shared. "Her father never imagined that Tin Kau could be the bonding between him and his daughter which he found that he was wrong in the past." Wallace continued and brought out the importance of living in the moment which made him reflect that the most important motto of doing design is to shorten the distance between people.
For Yanky, the most remarkable story from The Tin Kau Club was a couple took the initiative to learn Tin Kau right before they migrated to Canada as they wished to share this culture to people who lived in Canada. "I find it very touching as I've never imagined that this new form of transmission could persuade people to share this culture worldwide." Yanky was impressed. People's connection is very wonderful that you never know how powerful your behaviour is to somebody's life.
Are You Happy?
Evaluating the level of happiness, they thought they were in the range of 8-9. "Overall is positive. But I'm quite stubborn sometimes and not satisfied with my performance. This may easily trigger me to be trapped into a negative emotion." Yanky said. For Wallace, ignoring the social issue, he thought his wife, Yanky, was the biggest source of his happiness. "We both know the importance of each other's life. There are ups and downs in life, but everything becomes valuable when you know what is the most important thing in life." He claimed. It is unnecessary to make life too complicated. Doing the most important thing that comes to your mind when you wake up every day and satisfied with what you have, it's more than enough for not letting yourself regret.
"Are you happy?" Seems to be a simple question, but people used to forget tiny things in life easily. "Even my parents or me wouldn't ask myself this question, but Wallace was the first person who asked me choose to be happy cause nothing is more important than this." Yanky said. Wallace mentioned that Yanky had many frames in her mind that limited her creativity or ability but all the frames were built by others. Therefore, he hoped that she could learn to break through the frames and create her way of living instead of following the crowds.
When feeling depressed, they've got their own solutions to release. Yanky likes drawing to detox her mind and enjoying the moment of eating or sleeping, while Wallace prefers reading, listening to music and driving. "Driving is able to build up a personal space and get full control of my pace. At the same time, I can listen to my favourite songs and feel the wind like a scene in a music video. Man likes an idiot that simple things can make us feel satisfied easily." Wallace shared.
What Is Happiness?
Yanky understood that relationships built up by a game was the purest happiness in life through Tin Kau. "As we grow up, interpersonal relationships become complicated with lots of considerations and doubt, but playing Tin Kau can allow us to ignore all the utility factors and truly enjoy the interactions with players." Yanky said. Living in the generation that prefers texting more than face to face interaction, people's conversation skills tend to be weakened. But Tin Kau has accidentally become the bridge between Yanky and the older generation. "Old people don't know how to show their love even though they care about you a lot due to the generation gap. But Tin Kau has become the language that I can show my caring to my grandmother." For Wallace, he has gradually found that "sharing" what he loves to strangers with common interest is extremely happy. At the same time, if their design is being respected or appreciated, there will be extra happiness. "In the future, what if righteousness is being manifested, I think everyone will feel the truest happiness, not only me." Wallace claimed.
If they can write a book about their life, they will give a title to the book like a series of stories about the Cathay wisdom: "Harmony of People and Earth" & "Balance of Pen and Sword". In the near future, Yanky will concentrate on prompting Tin Kau continuously. "The positive feedback of establishing the club is quite unpredictable which some people will message us about the strategy and their thoughts on Tin Kau. Hope that one day youngsters from 18 districts will love this game." Yanky placed hope on her brand.
"For me, Tin Kau is not only a game, it is a wisdom that is valuable to be transmitted. It's fine that you don't like it, but you cannot miss it." Wallace shared his interpretation of Tin Kau. Talking about the future, Wallace wishes to have more spaces and opportunities for creation. In long term, he imagines his life will be consummation if her grandson or granddaughter knows how to play this game. While Tin Kau is a bridge to connect people, it is also a path to make Wallace and Yanky's dream comes true.