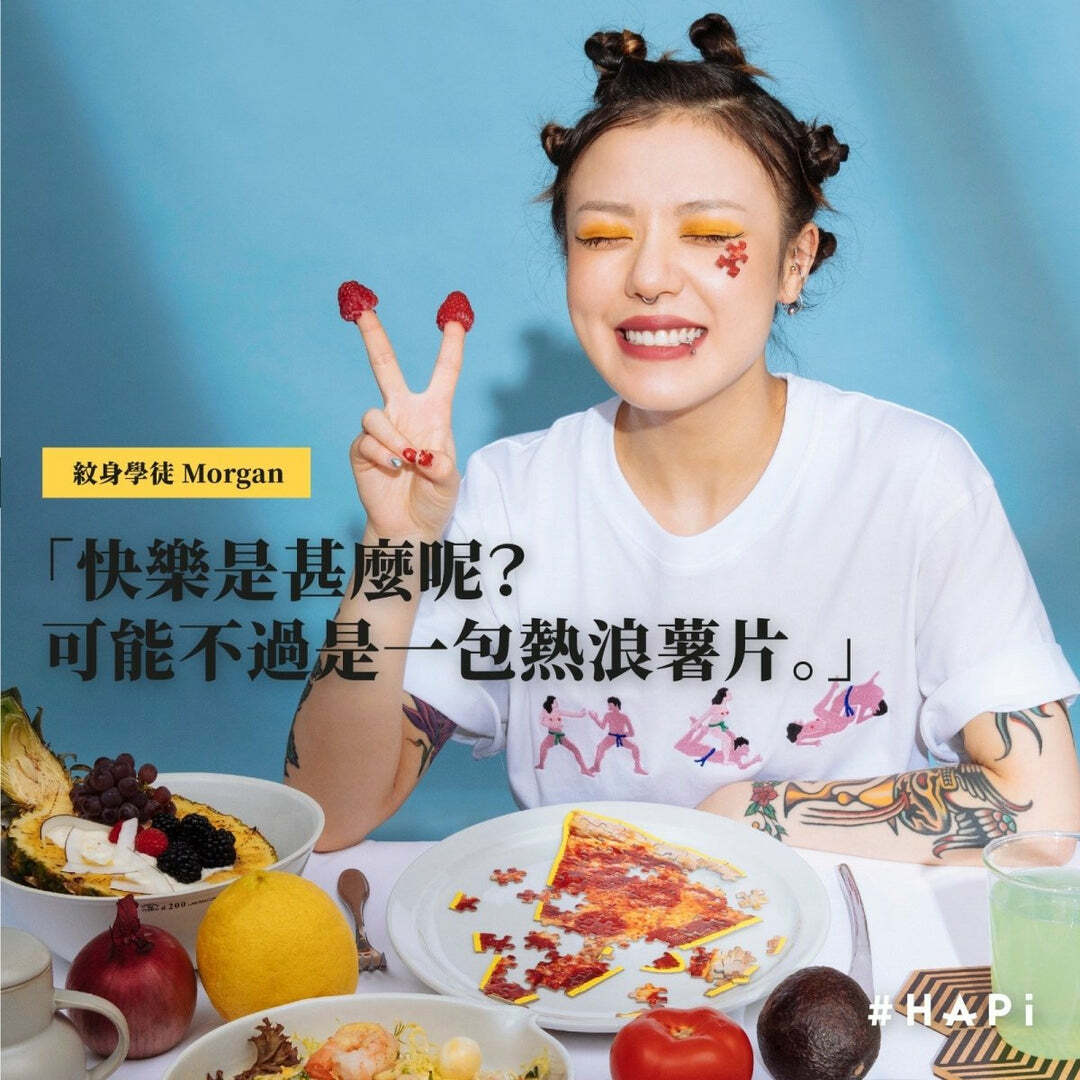 What is the definition of happiness? Being in a loving relationship? Being famous and successful? Being healthy and safe? Sometimes, happiness is nothing more than a bag of crisp. Tattoo Apprentice Morgan honestly said that life is hard and so as trying, but all you need is remembering those little things in life that make you happy and at some point, you will think to yourself that "ah, maybe I can hang in there for a bit longer."
Life is hard but happiness is not
"Since I'm an adult, life is really annoying and I can't say that I enjoy it a lot." Morgan is brutally honest that from scale 1 to 10, her happiness index is 4 only. Adulthood is full of restraints and apart from her family, boyfriend and colleagues, there are not many things that she can recall as memorable joyful moments. "The reason for feeling blue is usually because of myself, sort of feeling incompetent for example." It may sound cynical but it is also a reflection of the generation. The complexity and harshness in this world leave us no choice but to be tough but deep inside, there is still a teen who can be easily fulfilled. To Morgan, eating something tasty(spicy-flavoured crisps and cheesecakes are her comfort food),playing SimCity, looking at cool tattoo designs bring her the best comfort. Simple and wholesome.
Be a dedicated person
One can only be disappointed when he has pursuits. Once a lost person, Morgan now can talk about her dreams with a determined smile. " I wish to be a tattoo artist that I can approve of before the end of the world." Before she is devoted to that, she spent her days idly for a while. She wanted to make something out of herself but nothing could motivate her. "I actually considered myself lucky as my family doesn't require any financial support from me. I could have finished my uni study abroad and then found a decent job and do whatever I want but the problem is, I couldn't find out what I want to do." Those lost days ended when she fell in love with tattoo art last year but without her full commitment, she nearly ended her career path before it has even started and that's when she realised that she can no longer be irresponsible. "Being responsible is such a headache but I still want to work on that and be a dedicated person." While she's complaining "how nice it would be to live without obligations for the entire life", she is also creating her own path with her own hands, slowly and purposefully.
Before the arrival of the last day
Many people are into fortune-telling, checking horoscope or even reading books about the Chinese zodiac. Besides the desire to understand yourself a bit better, the act also comes from a combination of excitement and fear for the future. If tomorrow is the last day of your life, how would you spend it? A simple and adorable idea came to Morgan in a flash of inspiration "If I die tomorrow, I will want to stay at home instead of working. Oh, I can get the whole game pack of SimCity and also eat a lot. Basically, it's all about having fun and eating." Back to the initial question: What is happiness? She frankly said that she has no idea. "Actually being happy is easy but when you want to be the "happiest", you have to do the thing that you aspire the most "I haven't been there yet so I am not sure how that feels." If there is a biography based on her life, the tile would be Life is Exhausting But Here We Go, she jokingly said. Well, it sounds like a potential bestseller since it is so relatable.