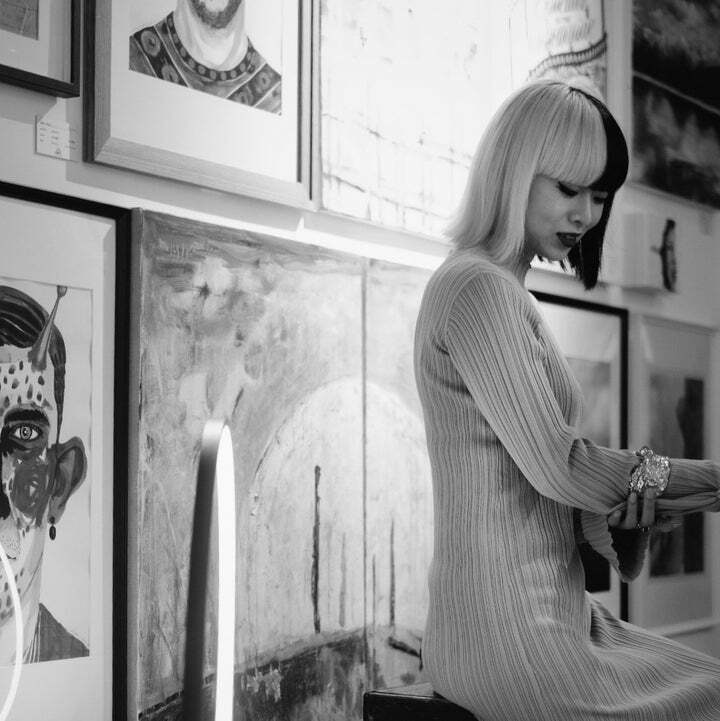 Old school, superstition, conservative… These are the common descriptions of Feng Shui in nowadays society. Theirry Chow, a new generation of Feng Shui master, has attracted public's attention with her fashionable style. She breaks through the tradition by merging art and design into Feng Shui philosophy with a view to reconstructing a new image on Feng Shui among the new generation.
Superstition is merely an attitude
Feng Shui is always seen as a superstition which is designed for the older generation or businessman. Thierry had the same thought when she was small even if her father was also a Feng Shui master. However, she began to comprehend that Feng Shui was a complicated knowledge with wisdom behind when she started learning Feng Shui at the age of 23. "Superstition is only an attitude, a behaviour of being too obsessed or blindly believing in something, instead of a problem related to industry." She's having a different interpretation on superstition from the social standard now.
After graduating from design institute and being a designer, Thierry has finally come to the same path as her father which she believed it was all related to destiny. The reason that triggered Thierry to learn Feng Shui was that she has seen the potential of this industry which a new trend has been shaped with increasing popularity of Feng Shui metaphysics among the young generation nowadays. Besides, it is also related to her rebellious personality. "I will insist on my decision even coming across lots of obstacles. Therefore, I will try to promote Feng Shui in an innovative way instead of the traditional one." Talking about how to choose the right Feng Shui master, Thierry emphasised feeling and destiny like making friends. " Many people choose a Feng Shui master who makes them feel comfortable or those who they can communicate with. But trying to be a better you or be more positive is the most important thing before choosing a Feng Shui master." Theirry said.
Feng Shui master lied to you for more than eight years? It is all related to your attitude.
Being the avant-garde in the Feng Shui industry, it seems to be her responsibility to rehabilitate the profession of Feng Shui Master. For the source of the ancient statement " Feng Shui master lied to you for more than eight years.", Thierry explained that it was an usual practice to hire a Feng Shui master for more than ten years in the past which was similar to the concept of family doctor. However, with the rapid development of technology, it is easy to look for different Feng Shui masters and choose the most suitable one for yourself now. She also emphasised that lying is unrelated to occupation if you are deliberately lying to someone. It seems to be easy to say but she understands that it is quite hard to convince people which she sees cultivating a positive image for Feng Shui in the public as a long-term project. Thierry hopes to be involved in TV shows to gain more exposure in the younger generation with more persuasive before & after effect.
Learning self-love in the chaos
Thierry said she will name her book as 《How To Be Yourself》to record her spiritual journey if she has the chance to publish a book. Facing lots of negativity in Hong Kong, Thierry mentioned the importance of embracing changes. "Changing is common sense. While living in the world with infinite variables, we have to learn to embrace changes, especially in 2021." Thierry said.
Actually, changes happen every day. Sometimes changes are so subtle that people don't care too much, therefore, when coming across big changes, people will panic easily. Thierry suggested the significance of observing tiny changes to learn how to cope with unexpected situations. Observations and being kind to yourself is the path to gain the ability to love and help others.
Happiness is not the same as forcing yourself to be happy
Talking about the level of happiness, Thierry thought she was on the level of 9. "The reason for not getting full marks is that I wish everyone would understand that everything has two sides. No one's life is 100% happy, so allowing yourself to be sad when you are depressed." Thierry said. She thought her source of happiness was helping people as a listener. She would do meditation and chanting to calm herself when she was depressed. Also, listening to music and drawing would make her feel released too.
Love is the most powerful
While being asked "What is happiness?", "Love" Thierry answered without hesitation. She thought love was the most powerful energy in the world which was always the solution to every matter or emotion. "You have to find the way to love yourself before knowing how to love others. You are always the only solution." Thierry said.